MY WEEKEND FOR THE WEEKENDER
Hey y'all! I have joined "The Weekender" link-up over at Love, The Skinnys. You should, too! I hope everyone has some awesome plans. I did at first, but then being a responsible adult got in the way caused them to get canceled. However, I'd like to think I'm still going to have JUST as much fun!
Rules:
Not really rules... because who follows rules on the weekend?!
Post a photo from last weekend.
Tell us what you are looking forward to this weekend.
Grab a button for your blog.
Celebrate in everyone's weekend plans!
I have already posted this one in a previous post, but it's the only pic I really have of last weekend. Sorry! I will get more this weekend, for sure!
See, Brandon and I were supposed to be going to HALLOWEEN HORROR NIGHTS (22?) in Orlando, FL tonight-tomorrow. Has anyone ever been? It is so scary, so fun, just so very amazing! I went several years in a row back in high school and they have a different theme every year. This year: zombies! They chase after you (as well as chainsaw men, ghosts, insane asylum excapees, all those scary guys) until you get to your destination (aka the roller coasters, haunted houses, or the cool Bill and Ted's Excellent Halloween Adventure show). Well, when Brandon told me he'd only reserved them and not actually bought them, we had to sit down and talk about...dun dun dun, money. We came to the conclusion that despite how badly both of us wanted to go, we should save the money (gas for a 4 hour round-trip drive, expensive tickets and fast passes, etc., etc.) and use it for adult things like rent or bills. Sigh...
But anyway, I'm still going to make it a point to have fun even without HHN!
1. I'm with my Gramps right now, watching him while my mom is out of town visiting my sister in Gainesville. Any time spent with my Grandpa is always fun, because he's the most hilarious man ever.
2. Brandon and I are going to be hanging out with some of our very amazing friends tomorrow.
But I am most anticipating...
3. SUNDAY FUNDAY! My friend Katie has everyone come over to her house to watch the football game every Sunday. Last weekend was really fun and our first time going. B and I love meeting new people, and we got to do that there last time, which was great. The boys were all drankin' and shooting pellet guns at balloons they had pinned to rope in the backyard (which is really swampy-like) and the girls were all talking. Okay, honestly, the girls did shoot, too. None of us shot any balloons, though. Haha :P So Sunday's next adventure is definitely hard to wait for.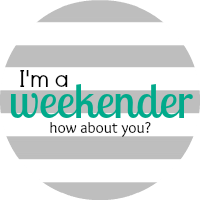 Be sure to go link-up and post your weekend plans! I can't wait to hear what some of you have going on this weekend. I'm on my way now to go find out! Everyone be safe, but have a crapload of fun! ;) Oh, one last thing: If you have found me via the Weekender link-up, please leave a comment and let me know, so that I may visit you in return! Thanks ;)